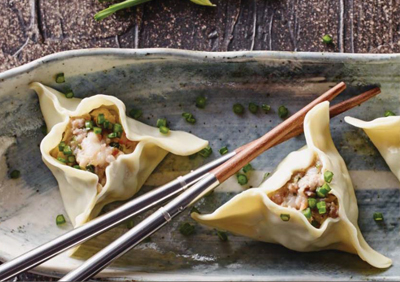 Steamed Dumplings
Ingredients
• 400 g Valenca free range pork mince
• 200 g prawn meat, finely chopped
• 1 egg white
• 1 tbsp chives, chopped
• 1 tbsp coriander leaves
• 1 tsp garlic powder
• 1 tsp ground black pepper
• 1 tsp ground sea salt
• 16 dumpling (gow gee) wrappers
• 1 green shallot, thinly sliced
• Soy sauce to serve
Method
1. For the filling; combine pork mince, prawn meat, egg white, chives, coriander, garlic, pepper and salt in a bowl.
2. Place 1 wrapper on a clean work surface and place 1 tbsp filling in the centre and fold up edges. Repeat with remaining wrappers and filling. Place into a steamer basket lined with greaseproof paper and steam the dumplings for 20 minutes until cooked.
3. Serve dumplings topped with sliced shallots and drizzle with soy sauce.